In YourDriverApp you can connect 1-to-1 with drivers but you can also create and/or be part of a group of drivers!
Groups can be referred to as collections/fleets of drivers that can help a lot in ensuring more efficient job distribution and communication.
When you've created a group, there are several features you can make use of. It is important to note that whether you can make use of all features depends on membership.

As soon as you become a member of any group, the group will start appearing in the messages tab. After opening the group, there are four sub tabs:
1. Messaging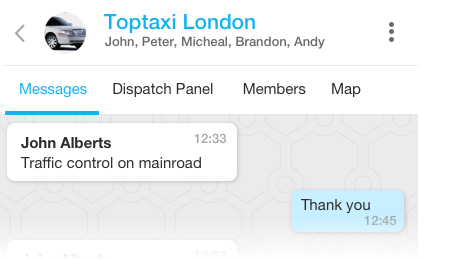 As with WhatsApp, YourDriverApp groups enable you to talk to individual members or everyone at the same time. However, unlike a standalone app, there are added benefits for a driver.
2. Dispatch Panel
The Dispatch Panel is a great tool, available for every dispatcher within a group. It gives a great overview of all the dispatching happening within your group. Within the dispatch panel, you can save jobs for later, see open jobs and more. To enable this feature, a dispatcher membership is required.
3. Members overview
Within the members overview, you can see all the drivers within your group. But not only that, you can also see their current status (availability) and their location.
4. Map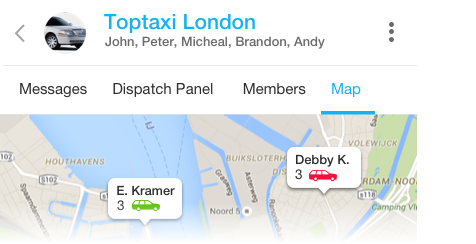 The map enables you to see where everyone is driving, meaning that if someone is online and available for a job, their location is shared with the dispatcher.
Click here if you want to find out more about how to create a group.