Our goal is to provide you the simplest yet most powerful mobile dispatch app, that enables you to connect with an unlimited number of sources through which you can receive work and make more money.
In order to reach this goal, we have a focus on building a unique workplace for dispatchers and drivers, making sure you have the right tools to be ready for these new sources of work.
Your group as the center of all incoming job offers.
Having YourDriverApp as your dispatch system, gives you the possibility to connect with other drivers and create or join an unlimited number of groups. We want to operate as the guide, helping you to grow your business, therefore we've made the app open to external sources. Meaning that you can connect literally any source for work to your group.
For example,
It is well known that customers, can book a taxi via hundreds of platforms. Although not every platform may fit your vision and service level, there are plenty from which you and your fleet can benefit.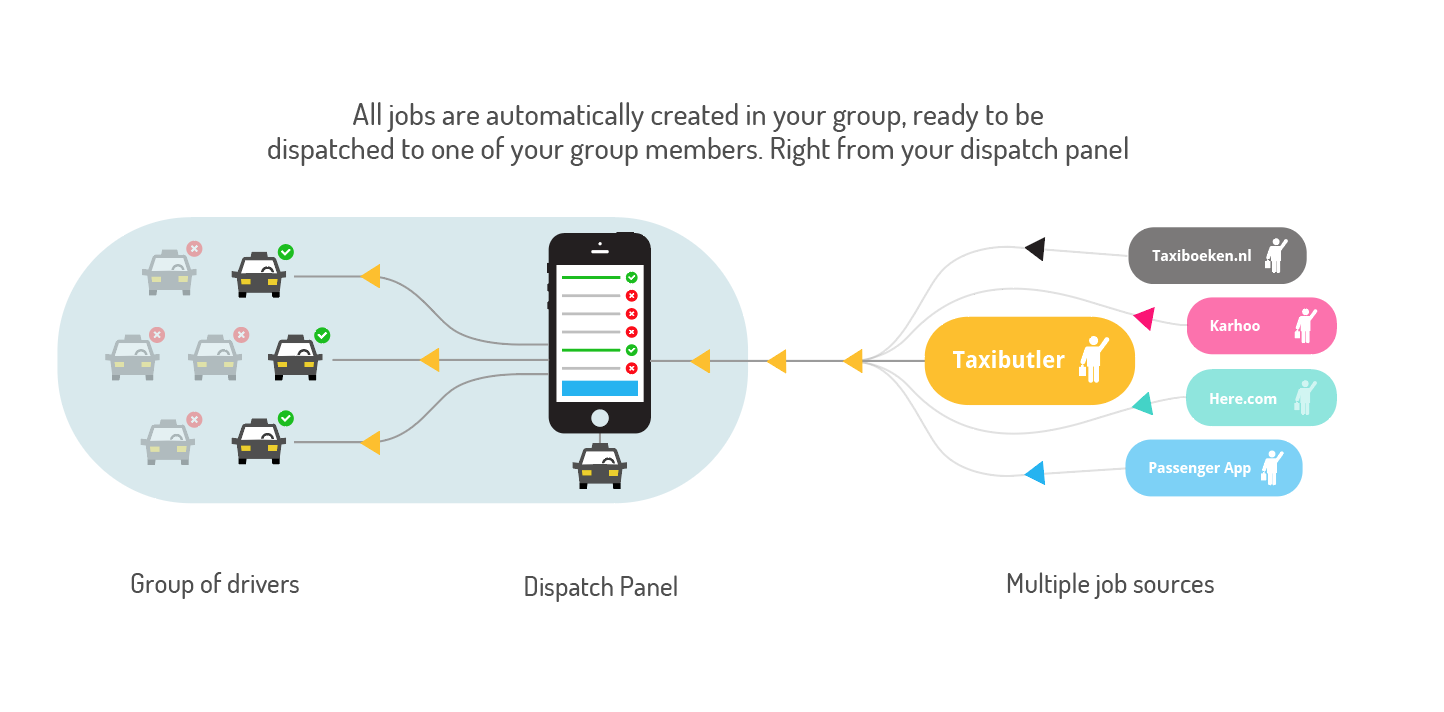 How?
Let's say you are working together within YourDriverApp and you're looking for options to get more work into your group. As a group owner you then have the possibility to link any external source, who distribute rides, to your group. This way, you can generate more jobs and earn more commission.
How does that work?
In short, when connecting with an external source, you are basically telling them; 'We let you know the availability of the drivers in our group, so that you can offer us rides based on this availability'. This information sharing, is what we call 'connecting' with an external source.
If you decide you want to connect to a new source, we will make sure that both parties will have all the information needed, so that you can get started right away.
Let's take a look at your new situation! more customers, more commission, all automated within your supervision!
Good to know:
You are always in control of your own group.

That your group is connected to an external source, doesn't mean you have to accept all incoming job offers. You are always in complete control.

It's a two-part collaboration:

External sources need drivers to make sure they can provide 24/7 taxis, while you need more customers in order to grow. Win-win!

We've got partnerships with several sources:

Don't know any sources yourself? Don't worry! We have plenty of sources who want a connection with fleets within YourDriverApp.

No commission: We and e

xternal platform(s) won't change your commission, meaning that the commission you've set for your drivers will still be in full force and effect.

Reliable and high quality rides: Most platform(s) work with (b2b) customers that pay on account.
Ready to get more work from multiple sources? Get in contact with one of your sales representatives!