In this article we explain how you can earn yourself a free month of a Dispatcher subscription by connecting with 10 drivers in your contact list!
When you start using YourDriverApp, you will start with a free subscription. With this subscription you have the option to build your network, join groups and receive job offers in order to get more work.
For excited users that wish to do more with YouDriverApp, we also offer the paid Dispatcher user plan.
Earn a free month of Dispatcher
Since we want users to test-drive and experience the benefits of having a Dispatcher subscription within YourDriverApp, we give you the option to earn one free month of the Dispatcher subscription, if you connect with 10 drivers in your contact list.
We do this, because we believe that connecting with drivers in your contact list is the first step into successfully integrating YourDriverApp into your business. With YourDriverApp Dispatcher, you will have features such as; create a group, create jobs, export archived data from the Driver Portal, and more.
Once you unlock your Dispatcher subscription, it will be active for one month. After that, you will keep your group(s) and settings, but your subscription level will be set back to free.
How to start with the YourDriverApp introduction offer.
To ensure that you can make your first connections immediately, we have created a short wizard in the app. If you successfully complete the wizard, we will give you a free month of YourDriverApp Dispatcher!
1. To start this wizard, you need to click on this button, shown at the top of your screen, under the 'contacts tab'.
2. You will then see a small introduction into the wizard. To proceed, click on 'Start Marking Contacts'!
3. The app will show you your contact list, when clicking the small circle, you will mark* a contact as your driver.
*Marking a contact, is letting YourDriverApp know that this contact is a driver. This way you can differentiate your business and personal contacts.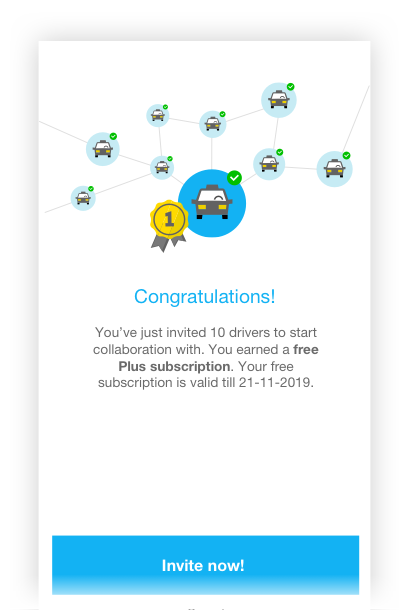 4. When marking 10 contacts as a driver, you will immediately receive one month free Dispatcher subscription!
Look below for more info about connecting with your contact list.