Having YourDriverApp as your dispatch system opens a lot of doors in terms of growth opportunities. One of those opportunities is connecting an external source to your group. External sources are options you can add to get more work in your group.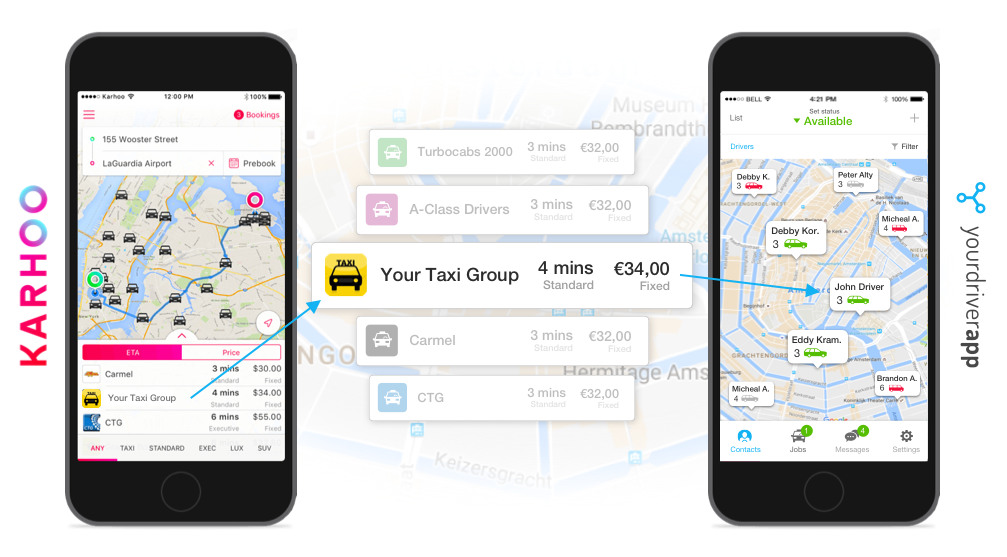 In this article we will dive deeper into the possibility to connect with the external source Karhoo. An introduction into connecting with external sources can be found here.
About Karhoo

The Karhoo Mobility Exchange is a marketplace dedicated to urban mobility, and with clients in more than 1500 cities is one of the largest marketplace that connects fleets and transport network companies from around the world. Karhoo is charges no subscription fee, no annual fee or commission. They simply add their share on top of your fare.
Karhoo works with a great variety of demand partners ranging from travel management companies, global distribution companies, corporate and leisure travel operators, assistance companies and delivery companies. Karhoo integrates with all network types and fleets (taxis, minicabs, PHVs), from small to large, with more than 1000 fleets already onboard with them and new ones joining every day.
How does the connection work?

To establish a connection between your YourDriverApp group and Karhoo, you will need to register yourself at Karhoo. During the registration, you will have the option to select YourDriverApp as your dispatch panel. When connected, you will share information of your group, such as; pricing rules, availability and status of your drivers. Now when a customer wants to book a taxi (in your area) via the Karhoo marketplace, your offer will be displayed within the Karhoo user interface.
If the customers chooses your offer, you will receive the booking in your YourDriverApp dispatch panel, so that the offer can then be assigned to one of your drivers in your group.
When a Karhoo ride has been successfully driven by one of your drivers, the ride will be visible in the YourDriverApp Portal. Karhoo will transfer payment by 10 business days after the completion of the ride. When you have received the money, you can pay your drivers based on the ride-information in the YourDriverApp Portal.
Why fleets join Karhoo
Get more business:

Karhoo gives you excellent exposure to global demand to grow your business.

Account trips:

The vast majority of trips in Karhoo are accounts trips - dependable, high value trips.

No fee, no commission:

No subscription fee, no annual fee. They add their share on the top of your fare.

Free and easy set-up:

Karhoo is already integrated with YourDriverApp. No additional software or hardware required.

No commitment:

You're in control. You decide what trips you want.
When connecting with Karhoo you will become part of the largest global marketplace for licensed ground transport. You will benefit from their network of customers, while keeping control of your own fleet.
Although Karhoo does not charge any set-up fee, the integration of your group of drivers with Karhoo does require a one time set-up fee of €250 charged by YourDriverApp. Get in contact with one of our sales representatives now!
Please note that:
A Karhoo connection is only available for fleets with more than 15 drivers.
This integrations requires a Cloud Connect License.