Having YourDriverApp as your dispatch system opens a lot of doors in terms of growth opportunities. One of those opportunities is connecting an external source to your group. External sources are options you can add to get more work in your group.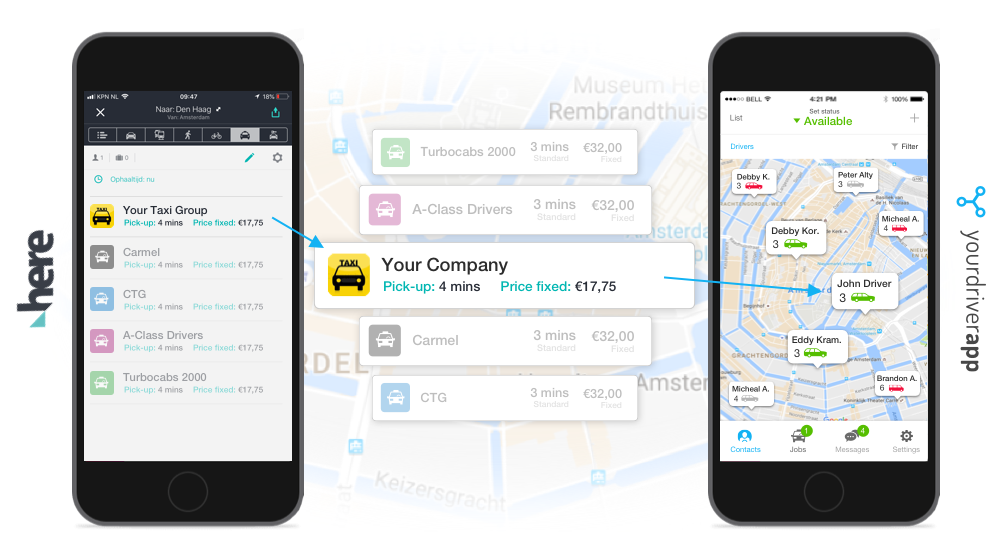 In this article we will dive deeper into the possibility to connect with the external source HERE Mobility. An introduction into connecting with external sources can be found here.
About HERE Mobility Marketplace

HERE Mobility, with coverage in 350 cities in 75 countries, is one of the fastest growing marketplaces that connects your fleet directly to customers worldwide.
For customers, the HERE Mobility Marketplace is a one-stop shop for all transportation services (bike rental, public transport), where they can see all mobility services available in real time. It offers tools/apps to businesses and customers worldwide so that they always have a mobility option that fits their needs. HERE integrates with all network types and fleets (taxis, minicabs, PHVs), from small to large.
View a video about HERE Mobility here.
How does the connection work?

To establish a connection between your YourDriverApp group and HERE, you will need to register yourself at HERE. During registration you will have the option to select YourDriverApp as your dispatch panel. When connected, you will share group information such as; pricing rules, and availability and status of your drivers. What this means is that when a customer wants to book a taxi (in your area) via the HERE marketplace, your offer will be displayed within the HERE user interface.
If the customer chooses your offer, you will receive the booking in your YourDriverApp dispatch panel, so that the offer can be assigned to one of the drivers in your group.
When a HERE ride has been successfully completed by one of your drivers, the ride will be visible in the YourDriverApp Portal. HERE will transfer payment several days after completion of the ride. When you have received the money, you can pay your drivers based on the ride information in the YourDriverApp Portal.
Why fleets join HERE Mobility
Get more business:

HERE gives you excellent exposure to global demand to grow your business.

Account trips:

The vast majority of trips in HERE are account trips - dependable, high value trips.

Easy setup:

HERE is already integrated with YourDriverApp. No additional software or hardware required.

No commitment:

You're in control. You decide what trips you want.
When connecting with HERE you will become part of the largest growing global marketplace for mobility transport. You will benefit from their network of customers, while keeping control of your own fleet.
Although HERE does not charge any set-up fee, the integration of your group of drivers with HERE does require a one time set-up fee of €250 charged by YourDriverApp. Get in contact with one of our sales representatives now!
Please note that:
A HERE connection is only available for fleets with more than 15 drivers.
This integration requires a Cloud Connect License.